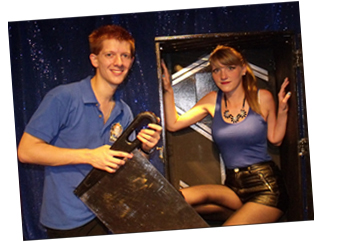 Are you organising a show, be it on a stage or in a corporate setting? Krisgar Entertainments is the perfect solution for you, mixing the ability of compering and performing, Krisgar really is your one stop shop.
With an extensive background in stage and performance, there is nothing that will phase Krisgar. Illusions, ventriloquism and comedy magic galore, regardless if you need 10 minutes or 1 hour there is something for everyone, perfect for grand openings, holiday centres, product launches, gala and variety shows.
Being a family entertainer, Krisgar's shows can be catered for any occasion. Yes Krisgar Entertainments is well known for specialising in children's entertainment, but why should the children have all the fun? With close-up magic, cabaret magic or even combining the two could Krisgar Entertainments be performing at YOUR next birthday celebration? Krisgar has performed for a 16 year old's party, right up to a lady who was celebrating her 80th!